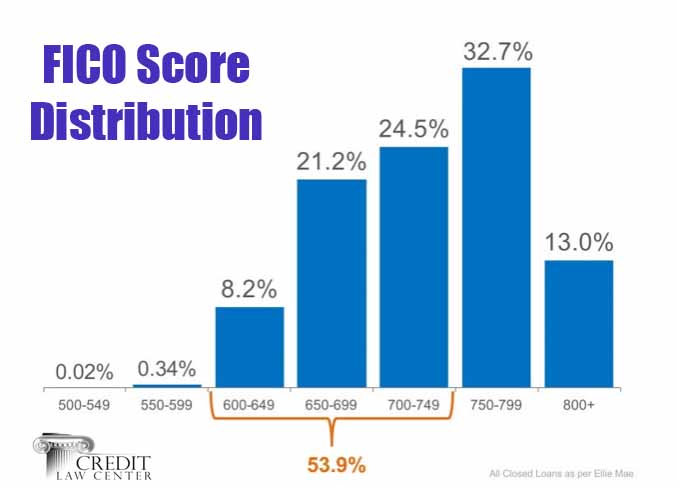 What kind of FICO score do you need to qualify for a Mortgage??
Buyers seem to have a misconception about the requirements needed to qualify for a loan in order to purchase a home. Your FICO score does play an important role in qualifying, but as the graph shows, you do not have to have a 700+ score to purchase a home.
While a recent announcement from CNBC shares that the national average FICO score has reached an all-time high of 706, the good news for potential buyers is that you do not need a score that high to qualify for a mortgage. Let's unpack the credit score myth so you too can become a homeowner, maybe sooner than you think!
There are multiple loan options that have differing qualifications for obtaining a mortgage: Conventional Loan, FHA Loan, USDA Loan, or a Veteran's Loan.
Conventional Loan; These mortgage products originate in the private sector and are not insured by the government. The higher the FICO score the better. "It's possible to get approved for a conforming conventional loan with a credit score as low as 620, although some lenders may look for a score of 660 or better." States CNBC
FHA loan; For those who do not qualify for a conventional loan, here is an option that you might want to consider. These loans also originate in the private sector but are insured by the government through the Federal Housing Administration. Your down payment will help determine the qualification standards. On average Lenders are requesting 10% down with scores between 500-579. If you have a 580 or above, you should be able to put as little as 3.5% down. And of course, the more you place down the better.
USDA loan; These loans are low-interest mortgages with zero down payments designed for low-income Americans who don't have good enough credit to qualify for traditional mortgages. They are made by private lenders and guaranteed by the US Department of Agriculture (USDA). These loans are offered to home buyers in in designated areas that cover several rural and suburban locations. Most lenders are requesting at least a 640 score for qualification.
Veteran's loan; The Veteran's Administration (VA) doesn't set a minimum credit score requirement for a VA loan, but it also does not make the loan. Lenders who do make the loans will typically have a credit score benchmark that varies, but a 620 FICO score is a common credit score requirement for this type of loan. VA home loans have NO down payment, but you must have a Certificate of Eligibility from the VA.
With this knowledge, perhaps it is time to consider your options for buying a home. We can help you with all your Real Estate needs. Homeownership is possible!
Alicia Oliver
International Golf Realty